What is Wi-Fi 6? (also known as AX WiFi)
Tomato
Tomato
2021-05-27 17:18:37
What is Wi-Fi 6? (also known as AX WiFi)

The first impression of Wi-Fi 6 is that it can make our Wi-Fi network faster. Yes, things are going to be speedier than before -- but beyond basics like speed and range, what's key about Wi-Fi 6 is how it will reshape the way routers handle the growing number of internet-connected devices in our homes and lives.

What's Wi-Fi 6?

Wi-Fi 6 is the next generation standard in WiFi technology. Wi-Fi 6 also known as "AX WiFi" or "802.11ax WiFi" builds and improves on the current 802.11ac WiFi standard. Wi-Fi 6 was originally built in response to the growing number of devices in the world.The standard builds on the strengths of 802.11ac while adding efficiency, flexibility, and scalability that allows new and existing networks increased speed and capacity with next-generation applications.

Is Wi-Fi 6 different from 802.11ax?
No, they are the same. The Wi-Fi Alliance started a campaign to coin the term "Wi-Fi 6" when referring to the IEEE 802.11ax standard. It indicates that it is the sixth generation of Wi-Fi. The premise was to simplify the marketing message to help 802.11ax be better positioned relative to the Third Generation Partnership Project (3GPP) standards used in cellular (such as 5G).

Wi-Fi 6 uses both 1024-QAM to provide a signal packed with more data (giving you more efficiency) and a 160 MHz Channel to provide a wider channel to make your WiFi faster. Experience stutter-free VR or enjoy stunningly vivid 4K and even 8K streaming player.

Wi-Fi 6 uses 8x8 uplink/downlink, MU-MIMO, OFDMA, and BSS Color to provide up to 4x larger capacity and to handle more devices. Come home to a virtually flawless smart home experience or throw house parties with a network built  to handle all your guests and their devices.

More Bandwidth on a Wider Channel 160 MHz Channel Width
Wi-Fi 6 expands the WiFi band from 80 MHz to 160 MHz, doubling the channel width and creating a faster connection from your router to the device. With Wi-Fi 6, you can enjoy 8K movies, large file downloads and uploads, and responsive smart home devices – all without buffering.

Increased Efficiency with OFDMA Make Latency A Thing of The Past
The Wi-Fi 6 standard uses OFDMA for increased efficiency. Imagine your WiFi connection as a series of delivery trucks delivering data packets to your devices. With 802.11ac WiFi, each delivery truck or "packet" could only deliver one parcel to one device at a time. But with OFDMA, each truck can deliver multiple parcels to multiple devices simultaneously. This vast improvement in efficiency works for both uploads and downloads.
Minimize WiFi Conflicts with Your Neighbor With Wi-Fi 6's BSS Color
Interference from your neighbors' wireless networks can cause issues with your wireless signal. BSS (Base Service Station) Color, marks frames from neighboring networks so that your router can ignore them. If you've ever lived in an apartment or close to your neighbors, this means that your router just became that much more efficient – no extra work required.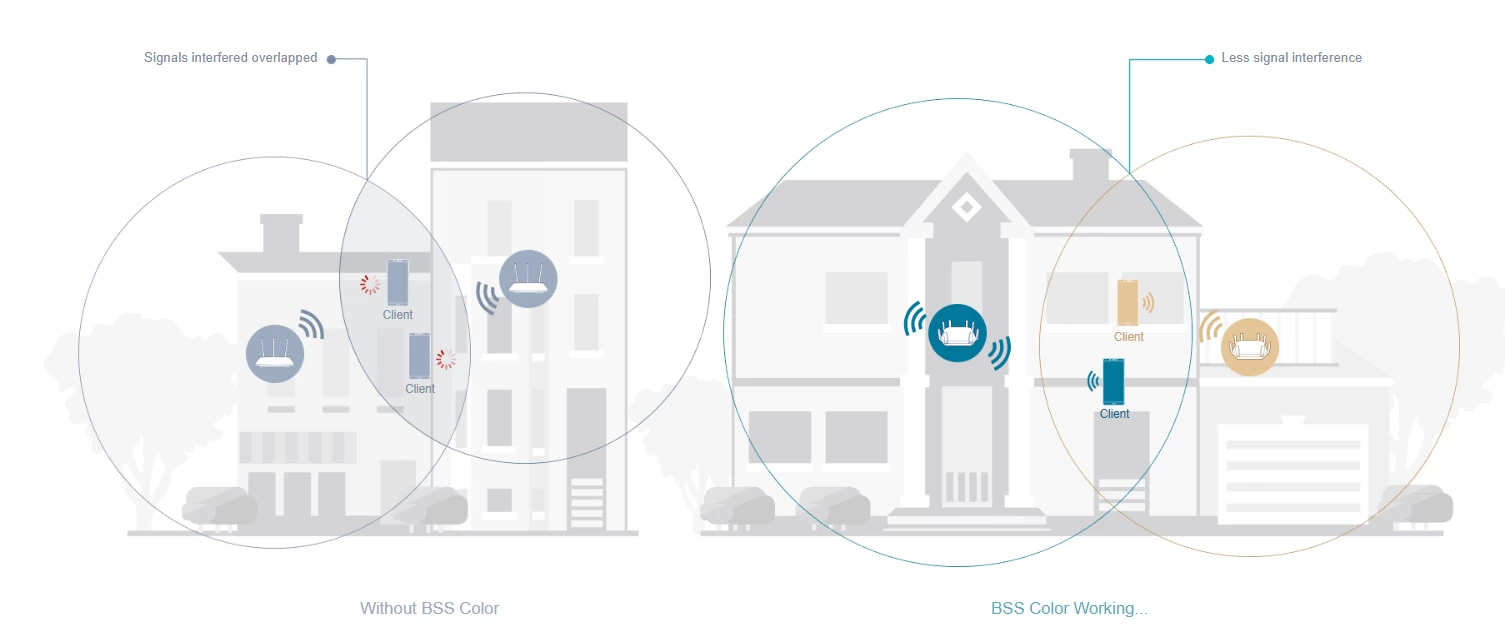 WI-FI 6 ALSO MEANS BETTER SECURITY
Last year, Wi-Fi started getting its biggest security update in a decade, with a new security protocol called WPA3. WPA3 makes it harder for hackers to crack passwords by constantly guessing them, and it makes some data less useful even if hackers manage to obtain it.
Current devices and routers can support WPA3, but it's optional. For a Wi-Fi 6 device to receive certification from the Wi-Fi Alliance, WPA3 is required, so most Wi-Fi 6 devices are likely to include the stronger security once the certification program launches.
WI-FI 6 IS JUST GETTING STARTED
Devices supporting Wi-Fi 6 are just starting to trickle out. You can already buy
WiFi 6 Amlogic S905X3 Android Mini PC