OneNuts 2 in 1 Media Player Game
Tomato
Tomato
2016-12-15 16:57:02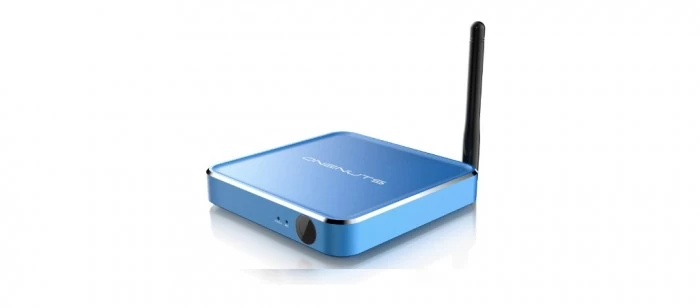 The 2 in 1 Media Player Game Box from OneNuts (see company website here) gives users the ability to utilize streaming apps from the full tablet version of the Google Play Store, access a fully customized build of Kodi as well as download and play tons of games with a few clicks. The device, which sports a handy reusable bag for transfer instead of using plastic and styrofoam for its packing materials, has a metal chrome case painted in an eye-catching sky blue accented by its silver chrome borders. All in all it's a fun little box read on to learn more.
Specs
Model No.: ONENUTS Nut 1
CPU: Amlogic S912 64-Bit octa-core ARM Cortex A53 processor @ up to 2.0GHz
GPU: ARM Mali-T820MP3 GPU up to 750MHz(DVFS)
RAM: 2GB DDR3
Internal Storage: 16GBeMMC flash and SD slot up to 32GB
OS:Android 6.0.1
HDMI: HDMI 2.0a up to 4K @ 60Hz with CEC and HDR support, and AV port max resolution
WiFi: Dual Band WiFi 802.11 b/g/n/ac 2.4 and 5.0 GHz
Bluetooth: Bluetooth 4.0
App: Google Play, Aptoide, Kodi 16.1, YouTube, Netflix, Game app (KO GameBox) BangTV, Mobdro, Show Box etc.

Ships In Reusable Bag
The first thing you will notice about the 2 in 1 system is that it ships in a nice reusable black bag
with the OneNuts logo. This serves as both the carrying case and its packaging. Instead of being shipped in a big box full of plastic and styrofoam the bag serves as protection with its foam encased interior. All of the system's key pieces fit into the bag with can be used for any other similarly sized devices. I think it would be very useful for anyone who wanted to demo the product like a re-seller to have something easy to travel with and set up.
The setup Wizard
The system is so easy to set up and that is due to a very easy to follow set-up wizard. The setup wizard walks users through the basics of sizing their screen, signing into their WiFi ) we recommend Ethernet/wired connection) and the other basics of starting up an Android device. This kind of thinking is a real aid for users
because it saves them the time it takes to find the settings in the interface later and allows you to be ready to stream in minutes.

Interface
The interface on the device on the surface looks more like your standard Android box, with the rectangular launch block in place and easy access to the app drawer, a specified launch button for Kodi and such. One of the most important buttons on the home screen is the task Kill button. This will stop all of the background apps and free up memory for what you want to focus on. When you begin to explore the settings you will see a major difference between OneNuts and other devices. A major plus is that the device has large easy to read menu screens for its settings and other important features. This is a key feature that a lot of manufacturers do not pick up on. The reason it is helpful is that it is designed with a user 10 feet away from the screen in mind as opposed to assuming they are one foot away in front of it. Some users may miss the Lollipop styled black and gray screen found on Android TV boxes and some other Android based devices. Onenuts chose to disable that interface in favor of a simpler set up.
The Kodi Build with Wizard Included
The focus of many Android boxes is access to Kodi, the multifaceted media center. The OneNuts 2 in 1 Media Player Game Box comes loaded with a custom-built Kodi 16.1 that allows users to either use the program as a clean build or allow a special pre-installed wizard to set a number of add-ons into place. This allows the device to ship with the ability to access a number of add-ons with very little technical know-how while also not technically being a "fully loaded" box. What the wizard does is two-fold. First of all, there is an option to just get started that you can opt in on or decline. This will set up a number of add-ons and add URL links to repositories. There is also a section under add-ons that allows users to add packages of add-ons specific to their country/region. The combination of options should make anyone looking for one of the fully loaded type Kodi boxes happy.
Games and Emulator
For the sake of honesty, I should point out that all Android boxes are capable of running video game system emulators. But what this system does with them is unique. It integrates a universal emulator "KO Game Box" so that users will not have to download multiple emulators in order to play titles associated with multiple systems. And even more, there is a very easy to use tool set up ahead of time like a browser or game store that allows users to search for titles by name or by exploring themed menus. They are broken down by genres like Fighting Games, Mario Games etc. Once a user selects a title they can easily download the game in a few clicks. The selection is preconfigured so users will not be able to find any game they wish, but other files can be loaded and played on the system. OneNuts promises to support 1500 or more titles and that's just what it does at the moment. Be careful though, keep in mind that emulators and roms are meant as a backup of a physical product.
Support for USB and Bluetooth 4.0 devices
Being a gaming and media box you would expect that the device should allow users to use a variety of keyboards, air mouses and gamepads. This is, in fact, the case. The system will not only support USB powered devices it also supports Bluetooth 4.0 gamepads and remotes. This should make gamers happy . On top of that users can use external speakers and other devices to enhance their viewing and listening enjoyment.
Performance
Boasting an S912 64-Bit octa-core ARM Cortex A53 processor the box itself is setup to zoom. The performance is obvious in the download speeds, especially when utilizing the Ethernet port, of which the importance can never be understated. The basic streaming apps like Netflix work just great though you should understand that you will need an airmouse in order to fully navigate the apps, which are designed with a touch and swipe based environment in mind. But in general, they worked well whether we looked at Hulu, Sling TV Mobdro, which was loaded out of the box and more. Where I did encounter some problems was when I loaded all of the add-ons for Kodi using the preset wizards included. This slowed Kodi down as far as navigation and launching apps. This can happen with pretty much any kodi build when it becomes over-burdened with too many processes and apps.
Sturdy Design
If a company does not ship its products in a metal case at this point it may be missing the boat. The OneNuts Media player has a sturdy metal case with what I consider an attractive look. The blue/teal coloring is unique in a world full of black boxes across the board. The ports are all easy to access. It is heavy enough to stay in place and just feels good and strong to the touch. During my time using the device it appeared to disperse heat well so that it was not hindered by it. In general, the look of the device, which is accented with silver chrome borders is sharp. All of the important ports are spaced out logically with enough room to allow users to plug in multiple peripherals and fully engage the device.
App Support
The ecosystem is one of the most important aspects of a media box. Android boxes are typically designed using the touch-based Android builds that you find on phones and tablets. The OneNuts 2 in 1 Media Player and Game Box is no exception. This allows the device to support the full Google Play store vs the smaller play store found on "Android TV" based boxes. The box also comes pre-installed with the Aptoide store, an alternative app store to the Google Play store that has apps that can't be found in the Play store for one reason or another. Users can also download more TV or lean back style apps from websites like APK mirror using the preinstalled Google browser to add more functionality and apps to their device. You actually will find that a number of apps designed for TV boxes work on this device. A search of APK's in APK mirror using the term "Android TV apps" will pull more things together like Hulu for Android TV and more. I could not get Netflix for Android TV to load though. Most notably, the YouTube App that is in place from the start is the TV-based Android TV version of YouTube. This means that users can fully navigate search play and pause video with a standard remote with no swiping or a cursor needed.
Pre-Installed apps
What is a media player without media apps? The device comes installed with a number of media apps ahead of time, so much to the point that many users may not even need to add anything. Right out of the box the player has Kodi (Media Center), Bang TV (Chinese IPTV), Mobdro (Western IPTV), Google Play (App Store) , Netflix (Movie and TV App), YouTube (Social Media Video App) and FilmOn (IP TV App). For Android veterans, there may be any number of other apps you want to add once you get ahold of the device but I find the selection bountiful and think that it will be more than enough to get people started. In order to fully engage with these apps, I recommend an air mouse.