What is the Android TV Box?
tomato
sztomato.com
2017-12-25 14:03:22
It still surprises us all the time how little people know about Android TV Boxes. Many people have Android devices or even use similar services and are still unfamiliar with what the Android TV Box is and what it can do. When we first started coming up with the idea for the Kodi Element Android set top box we got many questions, even from Android users. We surprised by the number and the type of questions we got. Can you go on Facebook? Does it have Hulu? This article will help explain exactly what it is we are offering and how you can use it to make your life easier.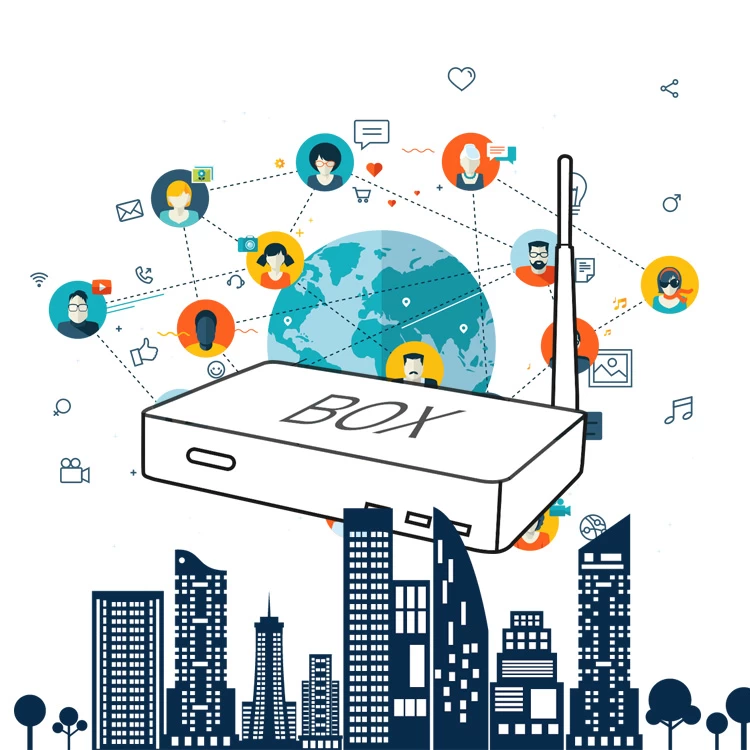 So what is an Android TV Box? These boxes are classified as "set top boxes" and are basically an Android Mini PC that easily connects to your TV with an HDMI or AV Cable . The Android TV Box has the power of an Android Tablet and it utilizes the amazing power of your HDTV to become the screen for this powerful PC. It allows you to turn any TV into a Best Android TV Box HDMI with the click of a button.
What can you do with your Android TV Box? It may be easier to talk about what you CAN'T do with this amazing set top box. The Android Box allows you to tackle any task that you can do on an Android Tablet or Smartphone and so much more. You have access to any of the over 800,000 Android apps available on the Google Play Store. Some of the most popular apps used on our device are:
Games
• Angry Birds
• Clash of Clans
• Game of War
• Candy Crush
• Minion Rush
Social Media
• Twitter
• Instagram
• Facebook
• Tumblr
• Reddit
• LinkedIn
News
• The Wall Street Journal
• Fox News
• ESPN
• CNN
• The Huffington Post
Music
• Pandora
• Spotify
• iHeart Radio
• Beats Music
• Stitcher
There is an app for everyone available on the Google Play store. If it doesn't have something, then the app probably does not exist yet. The freedom to use any of these apps is why the popularity of these Android TV Boxes has skyrocketed in recent months.
What are other reasons they are so popular? The Android TV Box also allows you to watch TV shows, movies, and live sports without the exorbitant cost of a monthly cable bill or even a monthly subscription fee charged by many services. The  Element Android TV Box comes pre-loaded with the newly upgraded and newly named Kodi interface (formerly XBMC). Instead of coming with many add-ons that may go unused through your time owning one of these set top boxes, we allow you to choose the add-ons and apps that you want and that you will use. We have a specially developed version of Kodi that makes it easy for you to program and customize your box with your add-ons. This is one of the areas where the Best TV Box HDMI Input really stands apart from the competition. Many of these boxes have to pay developers to program their boxes, which in the end costs you more money. Now you can keep your hard earned money and still enjoy the fastest, most cutting-edge Android TV Box on the market, the Kodi Element.
What other types of media can the Android TV Box handle? Well, it can really handle any type of media, but we will cover some of the more popular types of media enjoyed on the Android TV Box.
Home Movies
If you have ever wanted to show-off those amazingly shot home movies that are currently on your camcorder or computer, I mean really show them off on your HDTV, you can now do that easily with our set top box. You can do this easily without the hassle of multiple cords. All you have to do is connect the camcorder with a USB cord to your box and you can start enjoying your movies on your big screen TV.
Pictures
If you are one of those people who have tons of pictures stored on your computer, and many of us do, you can now show them off as well on your TV. Simply load the pictures onto a USB Flash Drive or external Hard Drive and plug that into your Android TV Box to view them in great quality on a large screen. There is no more need to crowd around a small computer screen to view these great pictures of you and your family.
Music
Many of us have a huge collection of our favorite music loaded on our computers. However, the sound systems on our laptops and tablets usually leave something to be desired. Now you can play that music through your surround sound or sound tube connected to your TV and entertainment system. By using the USB Flash Drive or Hard Drive you can now make that happen in minutes.
In conclusion, the Android TV is truly a dymanic device that can be used in so many ways for so many different types of media. The future of media will include

TV Box android HDMI

input in a big way and we hope that this article has made it clear how valuable this device is. Unlock the power of your TV with this Mini PC set top box.